Executive Summary
Siuslaw River Estuary
Earth Design Consultants, Inc. has partnered up with USGS (Dr. Richard Kiesling) and the Siuslaw Watershed Council to study how a restored tidal marsh influences nitrogen (N) and phosphorus (P) availability in the Siuslaw River Watershed. Funding is from US EPA's 104 Program. We selected five sites in the Karnowsky Creek drainage. Sites are located from the headwaters (first perennial flow) to where Karnowsky Creek joins the mainstem Siuslaw. Microperiphytomers were placed at each site in July and October 2005. We also placed artificial substrates to sample periphyton communities (see Siletz Food Web Study).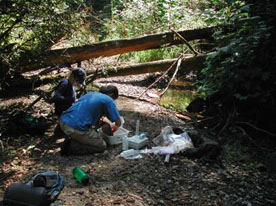 Approach
The wetland in Karnowsky Creek has recently been restored. In order to compared this restored wetland with one that is currently used for cattle grazing, we established three sites in a nearby watershed.
In this way, we can compare patterns of N and P limitation at sites above and below a recent restoration project. We will also characterize the periphyton communities along this gradient. Finally, we can compare the role of wetland/ riparian areas between watersheds.